There are certain things as a teacher that drive me nuts – forgotten books, picking up homeless crayons and "I forgot my backpack at home!" HOW, by the way, is that even possible? {But as I write this, I'm thinking about a story my sister shared with me recently how her own child forgot his backpack and she had to go home so he wasn't that kid!}
But seriously what really "chaps my hide" are first graders who don't know how to tie their own shoes!  {Well, what really chaps my hide even more than that is parents who send their child to school in shoes that need to be tied, yet they don't know how to!}
Each year, I make the "New Year's Resolution" for each of the kids in my classroom – they WILL learn to tie their shoes before they leave my room!
I'm sharing a few of my favorite strategies to make sure all of my students are successful with this life skill!

Favorite Videos
My favorite trick to show kids is Magic Fingers!
Check out this great video that explains it!
Another video you may have seen pop up in your Facebook feed recently was this great idea from Unstoppable Mother.  Though this is not the fastest way, it's a super simple way to teach your kiddos who may struggle with bunny ears and loops!

I post the links to these videos on my classroom website so parents can refer to these when they think their child is ready to learn this important skill!
In the Classroom
In class, I have a few Melissa & Dog Wooden Lacing Sneakers for students practice on.  Whenever they have a free moment, they can grab a "shoe" and practice. There's something about practicing it that makes it just stick!
I also have a few books inside my library that give students a chance to practice with simple step-by-step illustrations.
By far, the fan favorite is Red Lace, Yellow Lace.  The catchy rhyme easily guides kids through the steps. Bonus – it's a durable board book!
You can snag other titles in the Scholastic Book Order, but the books are flimsy and easily break.  Splurge and get Red Lace, Yellow Lace!
Home Connection
We cover a lot in class, but we can only do so much, right? So in addition to having kiddos use the wooden shoes and books in my library, learning to tie shoes is part of homework in my class!
In my Take Home Tasks – Homework for Families, I've included Shoe Tying 101. This box allows parents work on this skill throughout the week with their child.
On my classroom website, I also share these amazingLearn-to-Tie Laces from Jump for Joy on Etsy. When my nephews were learning to tie their shoes a few years ago, this was the best money ever spent! With no exaggeration, they learned to tie their own shoes in less than an hour!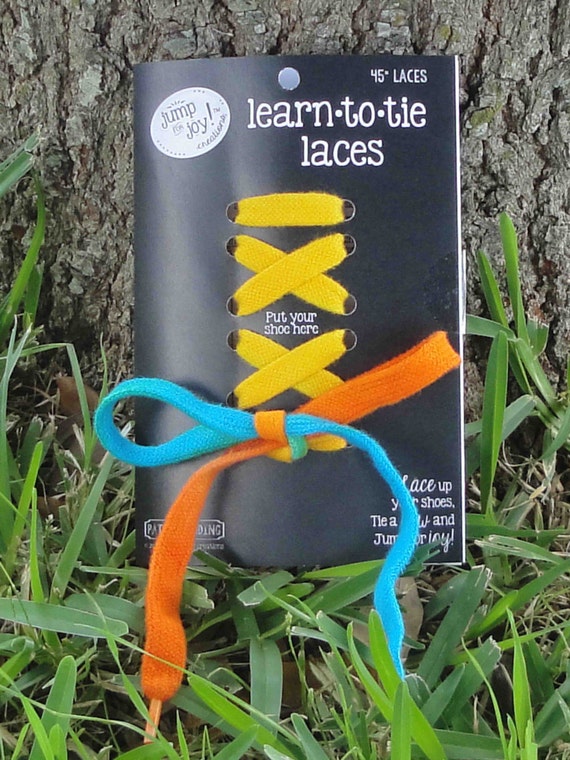 Reward Their Accomplishment
When students can successfully tie their shoes, I share this little treat! Although it's just a little certificate, it has a huge impact!
Click the picture to grab this FREEBIE for yourself!
How do you motivate your students to learn to tie their shoes?
Slainte!
This post contains affiliate links for Amazon.  By purchasing an item on the Amazon site using these links, I will receive a small commission on your purchase.  For more information about my Disclosure Policy, please visit this link.